What can I do with a degree in History?
For students wondering what to do with a History degree, here are two great reads:
"What Can You Do With That History Degree?"
"From History to Logistics: How My Degree in History Helps my STEM Career"
History is an exciting and dynamic discipline that is always asking fascinating new questions about the past and answering important old questions in new ways. The study of history teaches us to think critically about how the past is fundamentally similar to the present, how the past is utterly different from the present, how the past is profoundly influential in shaping the present, and how the past is recalled and remembered in the present.
History has long been a popular field of study and with good reason. What better starting place can there be for thinking about how to act in the present than to understand how people have acted in the past? What better starting place can there be for thinking about the forces that shape people's lives in the present than to understand the forces that have shaped people's lives in the past. And what better way can there be to acquire the skills necessary for succeeding in the twenty-first century - critical thinking, careful reading, energetic researching, analytic writing, and effective communicating - than to choose a major or minor in which all of these are emphasized.
Here the History Department wishes to highlight three primary benefits that can be gained through intensive study of the past.
First, political ideas, cultural traditions, social patterns, and economic structures inherited from the past are very important in shaping the world in which we live today. For example, we cannot begin to understand present-day upheavals in Iran without knowing about what happened before the twenty-first century. We cannot make sense of current events in Afghanistan, the Middle East, Africa, China, or Canada without studying the history of these areas. We cannot fully appreciate the significance of the Internet without examining the development of writing, the printing press, the telephone and telegraph, and television and film. And we cannot grasp the roles of race, ethnicity, class, religion, gender, disability and sexuality in today's world without exploring their history.
Second, the study of history imparts critical thinking, reading, research, writing, and communication skills, all of which makes us better citizens in a democratic society and a global community. History students spend much time comparing conflicting accounts of events and weighing different accounts against one another. They also focus attention on controversies and debates on matters of interpretation. Doing well in History requires learning how to gather information from a variety of sources, how to think clearly when confronted with a range of often contradictory evidence, how to develop one's own ideas and judgments, and how to express these cogently in oral and written forms. These skills are absolutely vital for the functioning of democracy.
Third, the study of history is good preparation for many professions and careers. Teachers, librarians, lawyers, civil servants, journalists, writers, editors, managers, and diplomats, for example, all need to process large quantities of information, assess meaning and significance, and communicate conclusions. It is no accident that many history graduates are found in these fields of work.
History is a versatile major that can lead to many careers. Our graduates tell us that the general skills and knowledge that they acquired while at York serve them well in a variety of ways. While the following list is not exhaustive, it highlights some of the most common paths followed by History students. For further information, visit York University Career Centre website, email them at career@yorku.ca or call 416-736-5351.
Majoring in History is the best first step toward a career teaching History or Social Studies in primary or secondary schools. Teacher certification (a Bachelor of Education degree) can be obtained at Canadian or non-Canadian schools, including York's Faculty of Education. A Specialized Honours and a Master's degree in History strengthens one's job prospects.
After majoring in History, the next step toward careers in law is to go to law school. (Some work first as a paralegal, law clerk, or legal secretary and then go to law school.) York's Osgoode Hall is an excellent choice. For admission, strong grades and LSAT scores are imperative. Taking courses and writing papers in legal history (and Law and Society) are a plus. There are many different types of law, including family law, constitutional law, business law, international law, criminal law, etc.
The writing, research, and communication skills acquired by History majors are strongly valued by employers in these fields. Entry-level paid or volunteer work in these areas, either during or after university, is often a necessary first step. Experience with university publications and media (including student newspapers, literary magazines, audiovisual services, and radio programs) can be very valuable. Specialized programs at Seneca@York (including concurrent programs in advertising and radio/television), Humber, Ryerson, and Sheridan are available. Long-term job prospects in these areas often depend on talent and luck, but it is worth noting that Toronto is a major centre for these fields and the popularity of historical and biographical programming on television is a good sign of the potential for future  growth in demand for history graduates.
Virtually every field now requires some familiarity with information technology, but many jobs in the information technology sector require more advanced skills. Many of these can be gained in the process of doing a History major if students take advantage of the opportunities presented for doing internet research, participating in internet projects, etc. Courses in Information Technology (ITEC) can be helpful.
Majoring in History is an excellent way to enter careers in these fields. Jobs can involve working on political campaigns, doing constituent services, aiding public officials, staffing public agencies, joining the civil service, serving in the diplomatic corps, or gaining appointed or elective office. In some cases, working as an unpaid intern or volunteer can be a good first step. In others, advanced degrees in law, public administration, policy studies, or specialized fields are necessary. Further information can be found on the websites for External Affairs, the Public Services Commission, and Heritage Canada.
NGOs include a wide variety of non-profit groups and institutions that operate alongside governments, both within and outside of Canada. Many NGOs work in areas such as international aid and development, international peacekeeping, urban and rural poverty, community health, community development, social services, immigrant support, etc. Language skills (bilingualism, multilingualism) are often helpful. In many of these areas, volunteer positions or internships are the best first steps toward paid work. Dedication to a cause, rather than to significant monetary gain, often has to be the motivation to work in this sector.
Many History majors work in business, and many of the most successful complete a Master's in Business Administration (MBA) after finishing their first university degree. York's Schulich School of Business is an excellent choice. Experience in the work world prior to applying to an MBA program is usually necessary. Consulting with business schools about admissions requirements is a good idea; this may shape the courses that you choose to take. Courses in Economics (or Business and Society) may be necessary.
A History degree is a good first step toward careers in these fields. This is another area where volunteer work and internships can be helpful in getting a foot in the door. Advanced degrees in library science, museum studies, and History can enhance one's career potential. For further information, view more information about the History Department's Public History Certificate: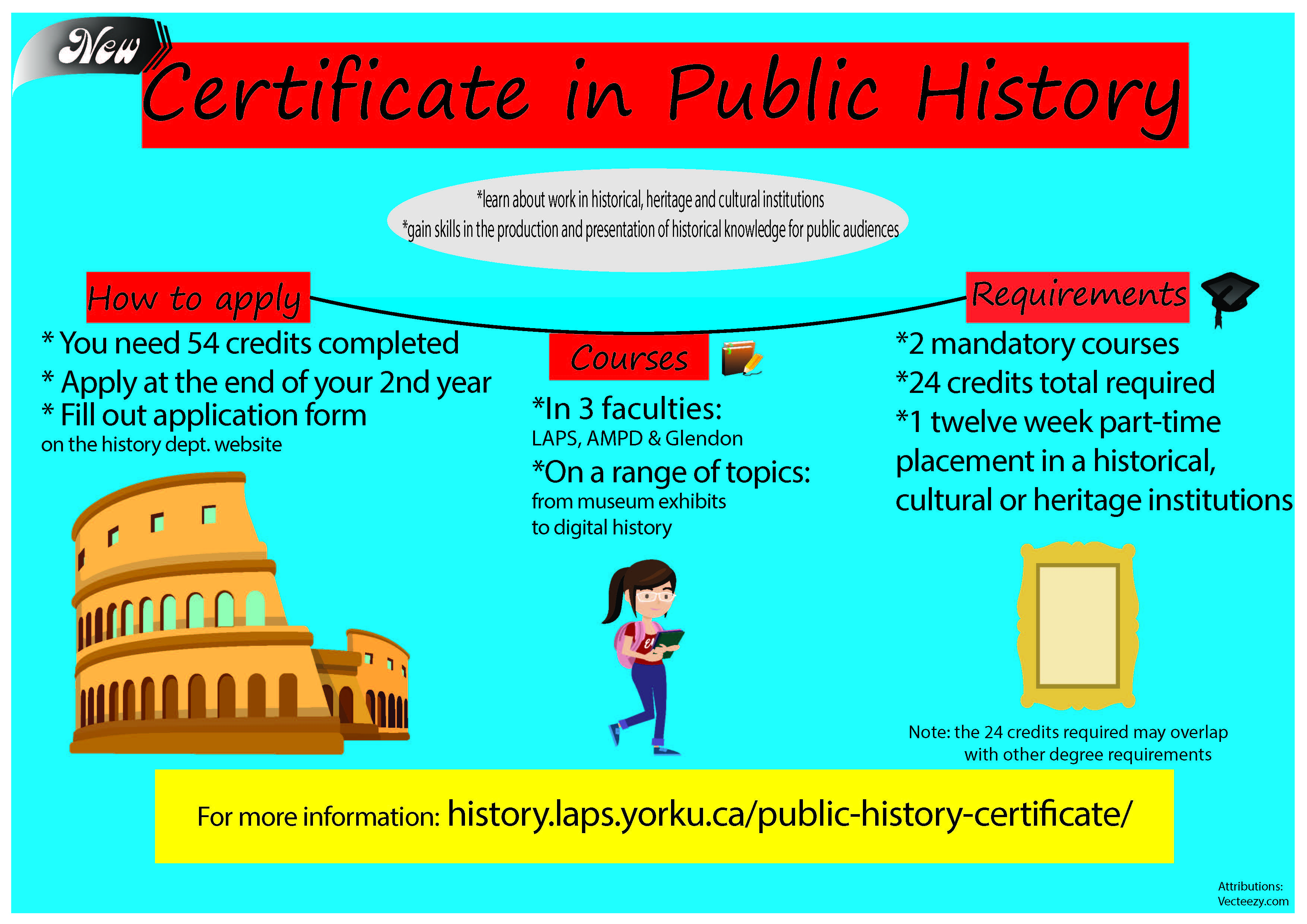 A History degree is the first  step toward becoming a History professor. After finishing the Honours B.A. the next steps are acquiring a Master's degree (M.A.) and then a Ph.D. in History. An M.A. typically takes 1-2 years and a Ph.D. typically takes 5-7 years. In Canada, most students first obtain an M.A. and then a Ph.D. (often at different schools). In the United States, many students skip the M.A. or obtain a combined M.A./Ph.D. The systems elsewhere in the world vary. If you are interested in graduate studies in History, consult with professors (if possible, early in your university career) about what courses to take, what language and other skills are needed, and where to apply. Scholarships and other forms of funding are often available.
Graduate school applications, normally due in December or January, are a project in themselves. Plan ahead. As a rough guideline, you need a minimum B+ average. An Honours BA is sufficient; Specialized Honours is not necessary. Applications ask for a well-articulated personal statement and at least two letters of reference from university teachers. The History Department runs annual workshops on the process. For further information on applying to York's Graduate Program in History (which is first-rate) can be obtained from the Graduate Program Office (2172 Vari Hall).