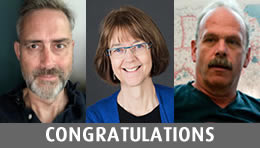 On behalf of the entire History Department, I would like to congratulate three of our History Department colleagues for winning SSHRC Insight Grants in the 2019-2020 competition: Stephen Brooke, Josh Fogel, and Molly Ladd-Taylor. 

Although these grants were awarded some time ago, the results have only recently been made public (https://www.sshrc-crsh.gc.ca/results-resultats/recipients-recipiendaires/2019/insight_grants-subventions_savoir-eng.aspx) and so we are now – at last – able to offer the Department's congratulations. As you know, SSHRC granting programmes are very competitive, and it is testimony to their scholarly stature in their respective fields and the quality of the research projects that they have secured this important funding for their research. 

1.      Stephen Brooke was awarded a SSHRC Insight Grant ($96,011) for his project on "Politics and Emotion in Britain, c. 1970-c. 2000".
 
2.      Josh Fogel was awarded a SSHRC Insight Grant ($82,069) to support his project "Transcending babel in East Asia: the Esperanto movement in China and Japan, 1900-1950"

3.      Molly Ladd-Taylor was awarded a SSHRC Insight Grant ($86,717) for her next project "Damaged Children, Innocence, Inequality and the Politics of Poverty in the Postwar United States, 1950-90'
Please join me in congratulating all these colleagues in History!
Boyd Cothran
Graduate Program Director
Department of History, York University