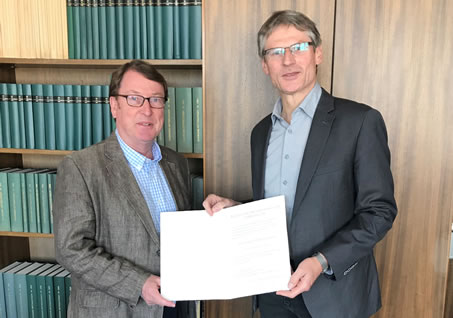 Dear Colleagues:
It comes as no surprise to us who know Jonathan that he has recently been awarded the internationally prestigious diploma as a new Corresponding Member of the German Archaeological Institute.
The Deutsches Archäologisches Institut (DAI), founded in 1829, is one of the leading international archaeological organizations. Formally part of Germany's Ministry of Foreign Affairs, it has its headquarters in Berlin and a worldwide network of departments and branches, including its long-established departments in Athens, Rome, Cairo, Istanbul, and Madrid, as well as departments for the Near East (with offices in Baghdad, Damascus, and Sana'a) and Eurasia (with offices in Beijing, Tehran, and Ulaanbaatar [Mongolia]), as well as commissions for Ancient History and Epigraphy, the Archaeology of N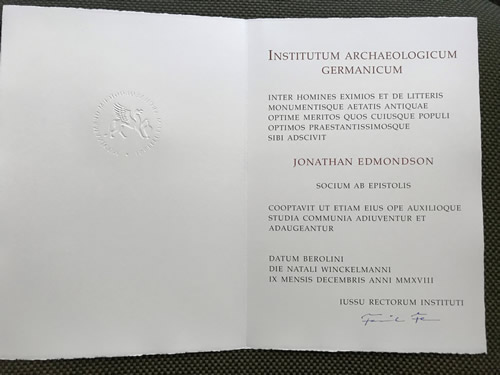 on-European Cultures, and the Romano-Germanic Archaeology, based in Munich, Bonn, and Frankfurt respectively. It has sponsored numerous important excavations around the world and publishes some of the leading archaeological journals and monograph series.
Each year the central Board of Directors of the DAI coopts a small group of Corresponding Members from among those "individuals who are excellent and the most meritorious concerning the literature and monuments of the Ancient World" (homines eximios et de litteris monumentisque aetatis antiquae).  Jonathan was proposed by the Commission for Ancient History and Epigraphy in Munich, and at their annual meeting on 9 December 2018 the DAI Board of Directors approved his election.  He was presented with the diploma by the Director of the Commission for Ancient History and Epigraphy, Prof. Dr. Christof Schuler, in Munich on 23 May 2019.  The diploma ends by stating that Jonathan Edmondson has been coopted as a Corresponding Member "so that by means of his ability and assistance our common intellectual pursuits may be fostered and made greater."
Please join me in congratulating our colleague on this wonderful achievement.
Thabit