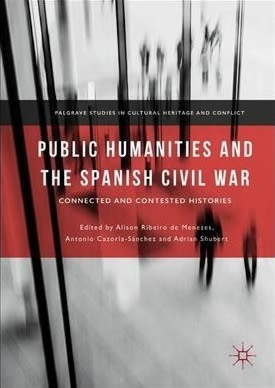 Dear Colleagues:
What better way to start 2019 than with an announcement that yet another of our colleagues has published a new book?  This time the culprit is Adrian Shubert who has published a co-edited volume on Public Humanities and the Spanish Civil War (Palgrave MacMillan).  The details are below.  Please join me in congratulating Adrian on this wonderful accomplishment.
Thabit
_____________________________
Summary:
This interdisciplinary collection of essays examines contemporary public history's engagement with the Spanish Civil War. The chapters discuss the history and mission of the main institutional archives of the war, contemporary and forensic archaeology of the conflict, burial sites, the affordances of digital culture in the sphere of war memory, the teaching of the conflict in Spanish school curricula, and the place of war memory within human rights initiatives. Adopting a strongly comparative focus, the authors argue for greater public visibility and more nuanced discussion of the Civil War's legacy, positing a virtual museum as one means to foster dialogue.
Contents:
Public Humanities and the Spanish Civil War
Alison Ribeiro de Menezes
Pages 1-18
Sites Without Memory and Memory Without Sites: On the Failure of the Public History of the Spanish Civil War
Antonio Cazorla-Sánchez, Adrian Shubert
Pages 19-43
The Spanish Civil War Archive and the Construction of Memory
Jesús Espinosa Romero
Pages 45-67
The Historical Memory Records Center: A Museum for Memory and the Recent History of Spain
Manuel Melgar Camarzana
Pages 69-91
Museums and Material Memories of the Spanish Civil War: An Archaeological Critique
Alfredo González-Ruibal
Pages 93-114
The Necropolitics of Spain's Civil War Dead
Alison Ribeiro de Menezes
Pages 115-137
Thinking Outside the Grave: The Material Traces of Republican Lives Before the Spanish Civil War
Layla Renshaw
Pages 139-162
Visualizing Mass Grave Recovery: Ritual, Digital Culture and Geographic Information Systems
Wendy Perla Kurtz
Pages 163-188
Digitally Mediated Memory and the Spanish Civil War
Paul Spence
Pages 189-215
The Spanish Civil War in the Classroom: From Absence to Didactic Potential
Maria Feliu-Torruella
Pages 217-238
Veiling and Exhuming the Past: Conflict and Post-conflict Challenges
Jordi Palou-Loverdos
Pages 239-266