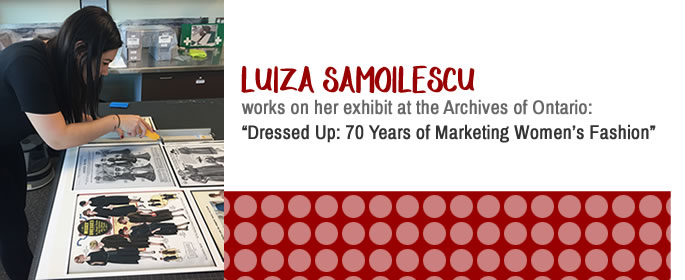 Luiza Samoilescu, a fourth-year History student in Prof. Jennifer Bonnell's History 4840: Public History course, has curated a new exhibition at the Archives of Ontario. Titled "Dressed Up: 70 Years of Marketing Women's Fashion," the exhibit showcases the history of women's fashion in Canada as depicted through the Archives' T. Eaton Company Ltd. (Eaton's) catalogue collections which were published between 1884 and 1976.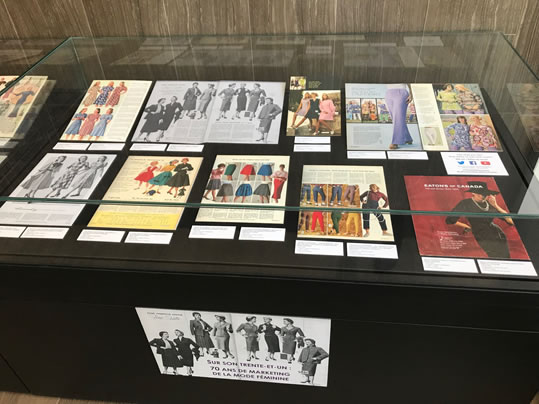 Ms. Samoilescu highlights catalogue headlines such as "Ladies' Dress, Walking and Bicycle Skirts" from 1901; "Newsmaking tiny waists – twirl skirts" (1948); "You'll look smarter in a suit" (1954-1955); "Sturdy 'n' comfortable…Duds designed for chore time, fun time (1964-1965); "All you do is add this pant" (1971) which emphasize the expectations of women throughout the decades.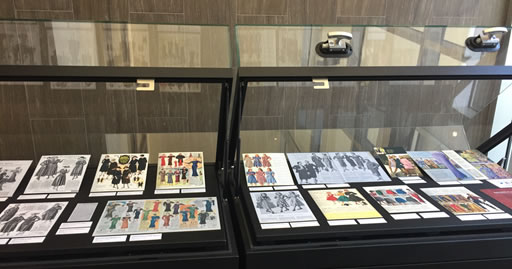 According to Samoilescu, "Eaton's fashion marketing relied on a particular conception of the ideal female aimed to appeal to a largely white, middle-class audience. The company's ads also promoted specific gender roles for women. For example, some of the images on display advertise clothing that "homemakers" can wear, or the fact that women will look "smarter in a suit." While each catalogue page offers a snapshot into the prominent fashions of each decade, it also speaks volumes about the social conventions shaping how women were expected to behave and dress.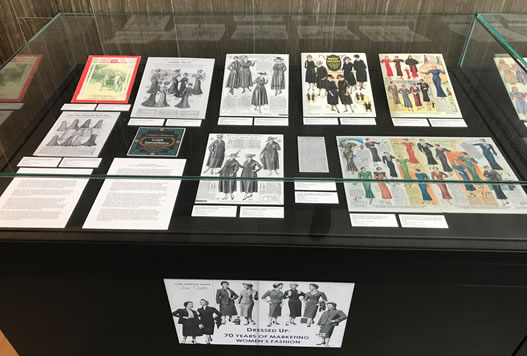 These records also document the relationship between social change and fashion tastes. The more daring and colourful prints, pants instead of long dresses, and shorter hemlines of the 1970s reflected women's changing roles in the workforce at that time. Beyond documenting the latest fashions, Eaton's catalogues and advertisements remind us of the values inherent in what and who gets to be seen."
The exhibit is currently on display in the lobby of the Archives of Ontario, in the Kaneff Tower on campus (hours 8:30-5pm M-F and 10-4 Saturdays).
For more information about Public History 4840, contact Prof. Bonnell at bonnellj@yorku.ca.