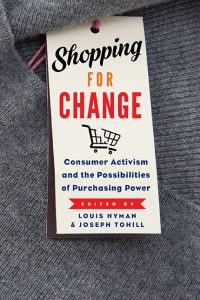 Dear historians,
More good news.  Our sessional colleague (and York History PhD ) Joseph Tohill has recently informed me of the publication of an important new volume, Shopping for Change: Consumer Activism and the Possiblities of Purchasing Power, co-edited by himself and Louis Hyman (Between the Lines Books/Cornell Univ. Press, 380 pp.). It contains essays not just by Joseph himself, but also by Sarah Elvins, another York PhD in History, and Julie Guard, who did her Master's at York and also taught here as a sessional before taking up her position in Labour Studies at the University of Manitoba, where she is now an Associate Professor. You'll find full details below.
On behalf of the entire Department, Joseph, many congratulations on the publication of Shopping for Change. It looks a really interesting volume.
All best wishes,
Jonathan
-------------------------------------
"Shopping for Change is replete with the documented beliefs that individual and collective political purchasing reduces and redirects the basic reservoir of giant corporate power—the dollars we give them that they use against the people and the planet. Read this book and shop wisely, sometimes shop less, and, increasingly, shop together for your democratic voice." – Ralph Nader
"Shopping for Change leaves us thinking deeply about who is responsible, and who should be held accountable, for creating a more suitable future." - Quill & Quire
Consuming with a conscience is one of the fastest growing forms of political participation worldwide. Every day we make decisions about how to spend our money and, for the socially conscious, these decisions matter. Political consumers "buy green" for the environment or they "buy pink" to combat breast cancer. They boycott Taco Bell to support migrant workers or Burger King to save the rainforest.
But can we overcome the limitations of consumer identity, the conservative pull of consumer choice, co-optation by corporate marketers, and other pitfalls of consumer activism in order to marshal the possibilities of consumer power? Can we, quite literally, shop for change?
Shopping for Change brings together historical and contemporary perspectives of academics and activists to show readers what has been possible for consumer activists in the past and what might be possible for today's consumer activists.
For further information and a complete table of contents, visit https://btlbooks.com/book/shopping-for-change