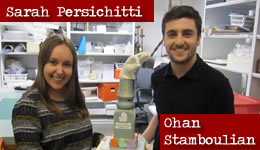 Dear colleagues and graduate students,
Historians will be interested to read the Y-File story that has just been posted today:
http://yfile.news.yorku.ca/2017/01/10/markham-museum-internships-give-york-students-experience-in-the-competitive-field-of-public-history/
about the great opportunities that our History colleague Jennifer Bonnell's course on Public History (AP/HIST 4840 6.0, Public History) is creating for York students. The article focuses on two students who interned last year at the Markham Museum; both of them were then given work opportunities in the museum following their work there for HIST 4840. I'm sure this will be just the first of many similar success stories as we build our profile in Public History under the skilled leadership of Jennifer Bonnell and other key colleagues.
All best wishes, Jonathan