Dear members of the History Department,

It gives me enormous pleasure to announce that our colleague Jennifer Bonnell won an award of excellence at the 2015 Heritage Toronto Awards for her book, Reclaiming the Don: An Environmental History of Toronto's Don River Valley (University of Toronto Press, 2014).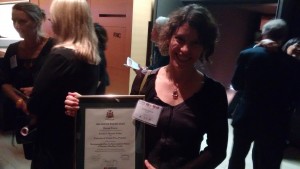 Here is the citation composed by the awards committee:
Exploring the relationship between the Don River, the river valley, and the city, Jennifer Bonnell's book, Reclaiming the Don, is a comprehensive history that is strong in its scholarship and provides a lively advocacy for the health and vitality of the river. In addition to recognizing the quality of narrative, the jury also commended the project's original maps, used to show changes to the Don River and its valley over time.

You may recall that Jennifer' book earlier this year won the Fred Landon Award, which honours the best book in local and regional history (The Ontario Historical Association) and the Clio Prize for meritorious publications or for exceptional contributions to Ontario History (The Canadian Historical Association).
Many congratulations, Jennifer, on behalf of the entire Department of History.


Regards,

Marcel
P.S. Please do not hesitate to send your comments to Jennifer ( bonnellj@yorku.ca)