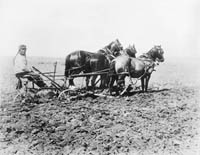 Above: First Nations farmer ploughing field on Western Canadian Indian reserve, 1920. Source: Library and Archives Canada.
The seventh installment of History Professor Sean Kheraj's audio podcast series "Histories of Canadian Environmental Issues" is now available on the NiCHE website. This episode examines the history of food in Canada.
The history of Canadian food and agriculture is an enormous topic with both a global and deeply personal scope. All humans require food to live and agricultural products become food for our consumption, demonstrating the profound interrelatedness of food and agriculture. Beyond sheer survival, food serves social and cultural purposes for all people, from planting and harvesting, through preparation, and ultimately with consumption. Communities and families coalesce around these activities and have done so for all of human existence. Food is a source of pleasure and for many people is intricately linked with spirituality. Examining the environmental history of food and agriculture in Canada reveals the ways in which our complex relationships with nature and each other inform this most intimate aspect of our daily lives.
On this episode, Kheraj speaks with the editors and authors of a new anthology from University of Toronto Press called, Edible Histories, Cultural Politics: Towards a Canadian Food History. This round table interview features Franca Iacovetta, Valerie Korinek, Marlene Epp, James Murton, and Ian Mosby.
To listen to this episode, visit: http://niche-canada.org/node/10644
Each episode in the series examines historical perspectives on a number of pertinent environmental issues for Canadians including:
Each episode includes conversations with historians who explore different aspects of these issues in past contexts. Round–table and panel discussions, and interviews will be featured to cover each of these complicated and important environmental issues.