Dear colleagues,
I am excited to relay the news that History PhD 5 student Pamela Fuentes won the inaugural Anne Simone Graduate Student Award and received it at LA&PS Faculty Council on 11 April.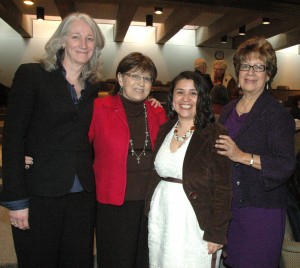 As many of you know, Anne Simone has worked for years at York at Schulich and for many years has served as the administrative assistant for the Dean in the Faculty of Arts working closely with George Fallis, Bob Drummond and more
recently in the new Faculty of Liberal Arts and Professional Studies as the administrative assistant to the Associate Dean, Faculty.
Anne has been on an extended medical leave, and this year graciously agreed to be acknowledged in the form of an award that would support conference travel for a LA&PS graduate student.
Pamela's doctoral dissertation explores the role of pimps and madams in Mexico City between 1940 and 1952. It examines how these individuals got involved not only in the sexual trade but also in the world of politics after the armed phase of the Mexican Revolution. At the same time, her dissertation studies how the geography of prostitution changed the organization of the city and vice versa. By focusing on the politics of gender, sexuality, spaces, and culture, her doctoral dissertation will explore how politics, vice, sin, and popular culture were intertwined in the construction of post-revolutionary Mexico City. Her supervisor is Prof. Anne Rubenstein.
The award will be used by Pamela to present her work at the conference "Selling Sex in the City: Prostitution in World Cities, 1600 to Present" which will take place at the International Institute of Social History in Amsterdam, on 25-18 April, 2013.
I attach a photo of Pamela being presented with the award. Also included in the photo are Barbara Crow, Interim FGS Dean (far left), Anne Simone (second from left), and Narda Razack, LA&PS Assoc. Dean International (far right).
Congratulations, Pamela!
William