Dear historians,
I'm sure you will all wish to join me in congratulating our colleague in the LA&PS Department of History, SEAN KHERAJ, on the publication of his first book, Inventing Stanley Park (UBC Press, 2013, 304 pp.).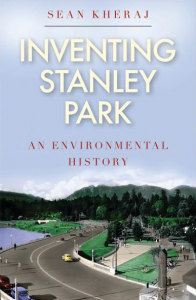 Here's how the press describes the book:
"In the early hours of 15 December 2006, a windstorm of a ferocity not known for more than forty years ripped through Vancouver. In the crisp light of dawn, the city's residents awoke to discover that Stanley Park, their city's most treasured park, had been transformed into a tangle of splintered and uprooted trees. In the weeks that followed, people toured Stanley Park by car and by foot like a procession of mourners at a funeral. Their anguish revealed more than just an attachment to the memory of a park -- it marked the end of a romanticized vision of timeless natural space.
In Inventing Stanley Park, environmental historian Sean Kheraj examines how this tension between popular expectations of idealized wilderness and the volatility of complex ecosystems helped shape one of the world's most famous urban parks. Drawing on a wealth of illustrations and the insights of environmental history, Kheraj not only describes and depicts the natural and cultural forces that shaped the park's landscape, he also reveals the roots of our complex relationship with nature.
Released to coincide with Stanley Park's 125th anniversary, this book offers a revealing meditation on the interrelationship between nature, culture, parks policy, and public memory."
For further details and a free sample chapter, see http://www.inventingstanleypark.com/  or
http://www.ubcpress.ca/search/title_book.asp?BookID=299173854
The volume, which was published on 15 May, appears in the UBC Press Nature/History/Society series.  Hardcover copies of Inventing Stanley Park are now available and the paperback edition will be available later this year.
This is magnificent achievement, Sean.   On behalf of the entire Department, I'd like to congratulate you most warmly on this. I'm sure the book will make an important impact.
All best wishes,  Jonathan