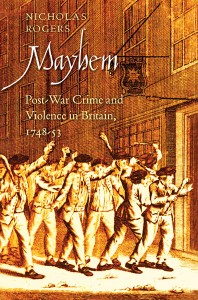 The Department of History congratulates Professor Nicholas Rogers on the publication of his latest book: Mayhem:Post-War Crime and Violence in Britain, 1748-53, this week.
Prof. Jonathan Edmondson, Chair of the History Department, said "many of us have heard parts of this volume as papers at earlier research seminars or conferences, most recently the chapter on 'Tackling the Gin Craze,' at the departmental symposium last April on 'Alcohol and History'. It's wonderful to see the appearance of what I'm sure will become an important book."
According to the publisher,  After the War of Austrian Succession ended in 1748, thousands of unemployed and sometimes unemployable soldiers and seamen found themselves on the streets of London ready to roister the town and steal when necessary. In this fascinating book Nicholas Rogers explores the moral panic associated with this rapid demobilization.
Through interlocking stories of duels, highway robberies, smuggling, riots, binge drinking, and even two earthquakes, Rogers captures the anxieties of a half-decade and assesses the social reforms contemporaries framed and imagined to deal with the crisis. He argues that in addressing these events, contemporaries not only endorsed the traditional sanction of public executions, but wrestled with the problem of expanding the parameters of government to include practices and institutions we now regard as commonplace: censuses, the regularization of marriage through uniform methods of registration, penitentiaries and police forces.
For more information, please see the Yale University Press web site.