DOCTOR OF PHILOSOPHY

William den Hollander completed his dissertation "From Hostage to Historian: Josephus, the Emperors, and the City of Rome" under the supervision of Prof. Jonathan Edmondson. William was the holder of a SSHRC Master's Scholarship and an Ontario Graduate Scholarship during the course of his PhD studies. He is interested in Roman historiography and, in particular, the multiple ways in which the Judaean priest, general, and then Roman citizen and historian Flavius Josephus interacted with the Flavian dynasty of Roman emperors and Roman society more generally. He has recently begun work towards a theological degree at the Canadian Reformed Theological Seminary in Hamilton.
Francis Peddie's PhD dissertation "Young, Well-Educated and Adaptable People: Chilean Exiles, Identity and Daily Life in Canada, 1973 to the Present Day" was co-supervised by Profs. Roberto Perin and Anne Rubenstein.  Frank did his undergraduate degree at Glendon and his Masters at the Universidad Nacional Autonoma de Mexico where he completed his thesis in Spanish. He taught English as a second language in Japan before beginning his graduate studies.  Frank held two Ontario Graduate Scholarship awards in the course of completing his dissertation.  He currently lives in Japan.
Elizabeth Polak completed her dissertation "Conventual Contracts: Power and Property in Oaxaca" under the supervision of Prof. Anne Rubenstein.  Liz began as a student of the late Elinor Melville; it was Elinor who inspired her to switch from her undergraduate major in Psychology to major in History, and then to return to York for the MA and PhD, specializing in colonial Mexico.  While she was in the PhD program, the Mexican government awarded Liz the Foreign Government Award, which funded her research in the archives of Oaxaca and Mexico City.  Liz is currently teaching a course in modern Mexican history at York, having also taught courses recently in global history and Cuban history at the University of Western Ontario and elsewhere.

Jay Young completed his dissertation "Searching for a Better Way: Subway Life and Metropolitan Growth in Toronto 1942-1978" under the supervision of Prof. Marlene Shore.  Jay also held a SSHRC award and, from York, an Avie Bennett Dissertation Scholarship in Canadian History, in the course of pursuing his doctoral studies.  He is interested in the intersections of technology, environments, and cities and is currently serving as one of the editors and builders of ActiveHistory.ca, a website that connects the work of historians with the public, policy makers and the media.  Jay's own website is http://historianjayyoung.wordpress.com.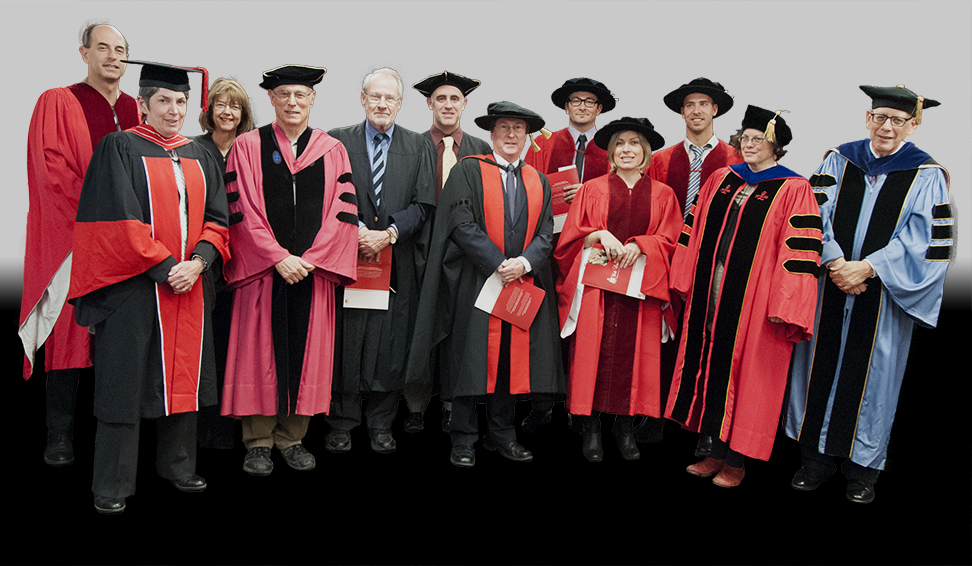 Above (From left): Colin Coates, Jennifer Stephen, Molly Ladd-Taylor, Tom Cohen, Arthur Haberman, William Jenkins, Jonathan Edmondson, Jay Young, Elizabeth Polak, William den Hollander, Anne Rubenstein and Martin Singer.
MASTER OF ARTS
Lyla Abells, "Bonds that were Built, Ties that were Torn:  The Complexities of the Jewish Mother-Child Relationship in Poland during the Holocaust", supervised by Prof. Keith Weiser.
Myles Ali, "Narratives of Flight:  The Sierra Leone Escaped Slave Registry and the Treatment of Slaves, 1885-1894", supervised by Prof. José Curto.
Alexandria Anderson, "The Pleasures of Picknicking:  Class, Gender, and Sexual Inversions in Post-World War Two American Culture", supervised by Prof. Marc Stein.
Nadia Condotta, "In Kennedy We Trust:  The Evolution of the Cuban Missile Crisis in the New York Times", supervised by Prof. Molly Ladd-Taylor.
Juliana Goriounov, "Confucian Contributions to Ecological Thought:  Links to the Past and Present of Ecological Thought in the Chinese Tradition and Anthropological Inquiry", supervised by Prof. Josh Fogel.
Matthew Gut, "Mfecane Historiography and Pre-Industrial Gender Relations in Zululand:  A Creative Interpretation", supervised by Prof. José Curto.
Vanessa Lovisa, "An Italian Immigrant Presence in Canada: The Case of Friulan Women", supervised by Prof. Roberto Perin.
Andrew Lynes, "Christianity, Secularization, and Ontario Public Schools in the 19th and 20th Centuries", supervised by Prof. William Westfall.
Michael Martins, "The Effect of Stress on Male Fertility:  Roman Emperors as a Case Study", supervised by Prof. Jonathan Edmondson.
Erica McCloskey, "From Social Uplift to Social Complacency:  Social Work and the Interwar Years", supervised by Prof. Jennifer Stephen.
Andriy Michalchyshyn, "The Origins of Intolerance-The founding of the Edmund Burke Society", supervised by Prof. Roberto Perin.
Aaron Peters, "Liberating Tenjiku: Pan-Asianism and Japanese Involvement in the Indian Independence Movement", supervised by Prof. Josh Fogel.
Laura Ricci, "The 'Lucky' Ones:  Slave Elites and Freedmen in Rome and the Sokoto Caliphate", supervised by Prof. Jeremy Trevett.
Valeria Rocca, "Bros in Hose", supervised by Prof. Mark Jurdjevic.
Maximilian Smith, "Ordinary Events, Extraordinary Interpretations: Popular Supernatural Belief in Georgian Britain", supervised by Prof. Nicholas Rogers.
Garry Smolyansky, "Us and Them: Soviet Jews Immigration and Settlement in Toronto, (1973-1990)", supervised by Prof. Michael Brown.
BACHELOR OF ARTS WITH HONOURS
Nicole Arsenov
Laura Ellen Canfield
Lorna Ann Chandler
Peter Chikowski
Arsha Contractor
Merritt Craft
Mary Gene R. De Guzman (Member of the Dean's Honour Roll)
Ryan Mathew Hawley (Member of the Dean's Honour Roll)
Rinya Koresh
Christina Margaret Lobo
Olena Lyubchenko (Summa Cum Lauda; Member of the Dean's Honour Roll)
Carlie Macpherson (Member of the Dean's Honour Roll)
Jeremy Johannes Meuris
Alexander Emma Paluzzi (Member of the Dean's Honour Roll)
Chase Pilon
Mark Shlafshtein
Preya Singh
Rafal Piotr Stolarz (Member of the Dean's Honour Roll)
Giordano Tarantino
Zachary Asante Tracey (Member of the Dean's Honour Roll)
Corey Adam Vella
Louis John Wierenga (Member of the Dean's Honour Roll)
Sussanne M. Wong (Member of the Dean's Honour Roll)
BACHELOR OF ARTS
Vassilis Adamopoulus
Benjamin Agyare
Maryam Amirzada
Jason Adam Blanchard
Amir Aaron Burt
Daniel Buttrill
Brian Howard Chen
Paige Jennifer Cowan
Raquel Dailey
Gianpaolo V. Di Blasi
Hotho Farah
Alexander Kar Wah Fong
Erica Francis
Daniel Giangioppo
Tsung-yo Ho
Oksana Jaskolka
Jaspreet Kaur
Nelson Lang
Rennie Katherine Mavrigianakis
Sarah Grace Mcfarlane
Daniel Millan (Member of the Dean's Honour Roll)
Amanda Monaco
Jeremy Sabatino Muccilli
Christopher William O'Henly
Kaila Querijero (Member of the Dean's Honour Roll)
Paula Susan Rayson (Cum Lauda; Member of the Dean's Honour Roll)
Georgia Rogakos (Magna Cum Lauda; Member of the Dean's Honour Roll)
Rayhaan Sayanvala
Mathew Shunk
Christian Robert Zuccarini