Public History Student Michael Primiani co-creates website on Yorkville's Folk Music Past
Michael Primiani is a fourth-year History major and a student in Prof. Jennifer Bonnell's History 4840: Public History course. This past semester, he worked with Stacy-Allison Cassin, the W.P. Scott Chair in E-Librarianship at Scott Library, to research, curate and develop a digital exhibit focusing on three coffeehouses and the role they played in the folk music scene in 1960s Toronto. During the 12-week placement at Scott Library, Primiani used the physical and digital archival holdings of the Clara Thomas Archives and Special Collections, the City of Toronto Archives, as well as photographing the neighbourhood in the current day. Primiani states: "I got to learn so much about a period of Toronto's music history that I was not aware of prior. In an era where we continuously are witnessing the closing of historic music venues to make way for more and more condos and real estate developments, I believe this work is crucial now more than ever. Although the physical space is no longer available, the memories of the moments in which that live music magic poured out from the instruments and singers on stage have a chance of being kept alive." The exhibit is entitled Yorkville and the Folk Revival in Toronto and can be viewed at http://scalar.usc.edu/works/musictoronto/index
For more information about Public History placements and History 4840, contact Prof. Bonnell at bonnellj@yorku.ca.
Public History Student Manprit Gill Curates Exhibit at Archives of Ontario
Manprit Gill, a fourth-year History Major and a student in Prof. Jennifer Bonnell's History 4840: Public History course, has curated a new exhibition at the Archives of Ontario. Titled Echoes from the Past: Remembering the Leslie M. Frost Natural Resources Centre, the exhibit displays selected records from the Frost Centre collection, acquired by the Archives of Ontario in 2014. Gill researched and developed all aspects of the exhibit as part of a 12-week placement with the Archives of Ontario. Her placement was one of fourteen placements held by History 4840 students in museums, archives, libraries and historical societies across the Greater Toronto Area. "Developing this exhibit was a truly rewarding experience," Gill noted. "Not only did it help me acquire practical skills in public history, but it also helped me to recognize the role of archive exhibits in gaining an understanding and appreciation of our past."
The exhibit is currently on display in the lobby of the Archives of Ontario, in the Kaneff Tower on campus (hours 830-5pm M-F and 10-4 Saturdays). For more information about Public History placements and History 4840, contact Prof. Bonnell at bonnellj@yorku.ca.
York History PhD student Jesse Thistle featured on CBC radio's "Ideas from the Trenches" (March 2017)
"Return of the Michif Boy: Confronting Métis trauma" with Jesse Thistle.  LISTEN TO PODCAST
Markham Museum internships give York students experience in the competitive field of public history (Jan. 2017)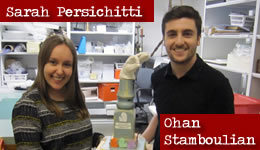 The Markham Museum staffs its internship program with some of the best and brightest history students from York University. In turn, this community partner makes its mark on the careers of students who aim to pursue a future in the cultural sector and public history organizations. [read more...]
Four York U students receive Vanier Canada Graduate Scholarships (Oct. 2016)
York graduate students Alison Humphrey, Zachary Lomo, Jesse Thistle and Syrus Marcus Ware have been named recipients of the Vanier Canada Graduate Scholarship, one of the most prestigious graduate scholarships in Canada.
Recipients receive $50,000 annually for up to three years to support their doctoral research and are selected based on their leadership skills and high standards of scholarly achievement in the social sciences and humanities, natural sciences and engineering, or health-related fields. [read more...]
Three York U graduate students become prestigious Trudeau Scholars (June 2016)
York University graduate students Aytak Akbari-Dibavar, Gerard Kennedy and Jesse Thistle have been awarded the Trudeau Doctoral Scholarship, a prestigious distinction presented by the Pierre Elliot Trudeau Foundation. [read more...]
York history students win Archaeological Institute of America award
History Professor Alejandro G. Sinner and his summer study abroad students won first prize for best poster at the annual meeting of the Archaeological Institute of America (AIA).
Kimberly McCullough, Alejandro G. Sinner, Ashwyn Grewal and Daniel Jankulovski with their prize-winning AIA poster
Sinner, Social Sciences and Humanities Research Council (SSHRC) postdoctoral fellow in the Department of History, and his students from the study abroad course Roman Spain: Archaeology & History attended the conference in San Francisco from Jan. 6 to 9, 2016. [read more...]
Success and second chances: Jesse Thistle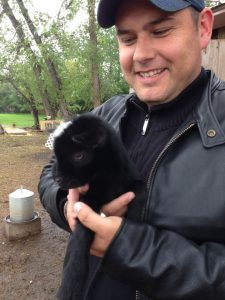 He was homeless... in and out of jail, and addicted to drugs. But these days - perseverance is paying off for Jesse Thistle. He's celebrating his graduation from York University. Nil Koksal introduces us. [watch video...]